SICCI welcomes business forum, engagement to explore further economic & trade opportunities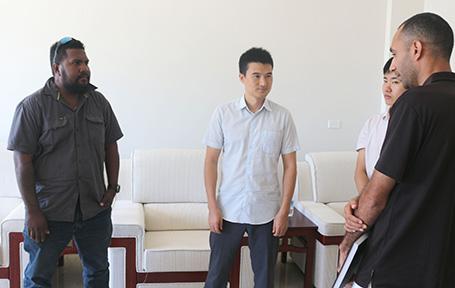 Thursday 13 August, Honiara – The Solomon Islands Chamber of Commerce and Industry (SICCI) made a courtesy visit to the Chinese Embassy in Honiara on Thursday 6th August in response to an invitation from Counsellor Yao Ming, Acting Head of the Chinese Embassy in Solomon Islands.
A SICCI press statement released today (Thursday 13 August, 2020) said this was to look at potential export markets and building more trade connections.
The SICCI delegation was led by Chairman, Jay Bartlett and included Vice Chair, Ricky Fuo'o, Board Members Qila Tuhanuku, Daniel Tucker, and Hilda Lamani and Chief Executive Officer (CEO), Ms Atenasi Ata.
While the bilateral relationship is new, SICCI noted People's Republic of China (PRC) as an important economic trading partner for many decades for both import and also as the main buyer of exported round logs from Solomon Islands.
"The trade tie between Solomon Islands and PRC is a long-existing one but also quite narrow one as most of it is based on a single export commodity.
"The Chamber believes this recently-enhanced relationship can open new export markets and is an opportunity that we should be actively exploring.
"There are certainly many opportunities but also concerns about how best we as a country, can manage the business relationships that will result in a win-win for both sides," the SICCI statement said.
Solomon Islands has a narrow economy base that is reliant mainly upon the extractive industry.
"As a country we need to work towards broadening our economic base by developing new sectors to create a sustainable and robust economy. An economy that can create jobs and other opportunities for our fast growing population.
"Sectors like Agriculture and Tourism have huge potential to tap into the Chinese market which would help accelerate the growth of our local industry. It is all about finding the right market and the right partnerships hence the intention to facilitate stronger business to business ties between the two countries," the statement added.
As an outcome of the discussions, both parties are planning towards a roundtable meeting between the China Chamber of International Commerce and the SICCI Secretariat.
Another potential activity for SICCI to coordinate is a session on Solomon Islands business regulations with respective Government agencies like the Ministry of Commerce, Industry, Labour and Immigration and Inland Revenue Division (IRD) which potential Chinese investors should know about.
Meanwhile, Acting Ambassador Yao Ming conveyed an invitation for Solomon Islands businesses to participate in the Third China International Import Expo (CIIE) to be held between 5-10 November 2020, in Shanghai.
"The Chamber Board believes that with the impacts of COVID-19 creating both Health Crisis and Economic Crisis it is important that we maintain meaningful engagement and communication with all our development partners. Collaboration is the way to go in balancing risks and opportunities for our country, and this is the basis of our engagement going forward," the SICCI statement ends.
-SICCI Media
Facebook Comments