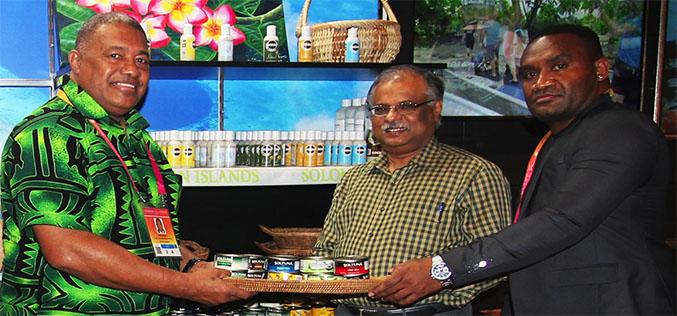 Three months after the opening of Expo 2020 in October last year, the earnest efforts of days and weeks of persistent marketing of our Solomon Island products by our Pavilion staff together with our Volunteers, has finally paid off after Abu Dhabi based Talent SeaFood Trading secured their business deal with the first purchase of 200 cartons of SolTuna products.
Talent SeaFood Trading representative Mr Mohammed Kutty, personally visited our Solomon Islands Pavilion on Wednesday, February 2nd,2022 to inspect the various products on sale before attending a brief meeting organized by Business Representative Mr Bryan Keniasina and PR/Media Manager Kelepi Abariga, who have been instrumental in securing the deal with Talent SeaFood Limited.
Mr Kutty said that since their last meeting in Abu Dhabi in December 2021, various processes have been undertaken in which samples of Premium Chilli Tuna (Yellowfin Tuna in Oil) and Premium Skipjack (Tuna in Vegetable Oil) were tested at the Central Testing Laboratory in Abu Dhabi. He added that for the UAE market, thorough tests to determine the percentage of Mercury, Aerobic Colony count, Histamine and Lead are required as part of the industry's Food Management Safety Practices in the traditional fish processing sector.
"The sampling of different types Tuna undertaken by Talent SeaFood Trading to various nationalities proved beyond doubt that Soltuna products are tastier than many common brands in UAE market".
Commissioner General, Ambassador Moses Kouni Mose welcomed and commended the break- through to securing a reliable buyer for Soltuna products in the UAE.
"This is a big achievement for Solomon Islands participation at Expo 2020 Dubai. He hopes that Soltuna will capitalise on this opportunity to supply its products to the UAE and the regional markets in the Middle East".
Mr Keniasina in acknowledging the commitment made by Talent SeaFood Trading said that establishing such business relations was critical especially on the margins of a huge global trade fair such as Expo 2020 Dubai.
"Your commitment has in due course indicated to all stakeholders in the Solomon Islands that you are serious about doing business with our country, and we want to convey our appreciation for your company's foresight and boldness in enabling the presence of Solomon Islands products in the UAE including the Middle East".
SolTuna's Business Development Manager in Australia, Mr Mark Gribble had also confirmed a day after Mr Kutty had made payments for the delivery of the first 200 cartons, that Talent SeaFood Trading will soon be issuing letters to confirm their engagement as a 'Distributor' of all SolTuna products in the UAE and further added that SolTuna will commence its full engagement with the Abu Dhabi based company at the end of Expo 2020 on March 31st, 2022.
Mr Kutty added that there have also been great interest shown by business entrepreneurs in Egypt as the country imports Tuna mainly from Thailand with a market share of nearly 80%.
𝖯𝗁𝗈𝗍𝗈 𝖢𝖺𝗉𝗍𝗂𝗈𝗇: 𝖡𝗎𝗌𝗂𝗇𝖾𝗌𝗌 𝖱𝖾𝗉𝗋𝖾𝗌𝖾𝗇𝗍𝖺𝗍𝗂𝗏𝖾 𝖬𝗋 𝖡𝗋𝗒𝖺𝗇 𝖪𝖾𝗇𝗂𝖺𝗌𝗂𝗇𝖺 𝖺𝗇𝖽 PR/Media Manager 𝖬𝗋 𝖪𝖾𝗅𝖾𝗉𝗂 𝖠𝖻𝖺𝗋𝗂𝗀𝖺 𝗉𝗋𝖾𝗌𝖾𝗇𝗍 𝖬𝗋 𝖬𝗈𝗁𝖺𝗆𝗆𝖾𝖽 𝖪𝗎𝗍𝗍𝗒 𝗈𝖿 𝖳𝖺𝗅𝖾𝗇𝗍 𝖲𝖾𝖺𝖥𝗈𝗈𝖽 𝖳𝗋𝖺𝖽𝗂𝗇𝗀 𝖺 𝖿𝖾𝗐 𝗈𝖿 𝗈𝗎𝗋 𝖲𝗈𝗅𝖳𝗎𝗇𝖺 𝗉𝗋𝗈𝖽𝗎𝖼𝗍𝗌
What you think?